You can still file for medical malpractice if an opioid overdose doesn't lead to death.
Yes, opioid overdoses can be considered medical malpractice even if they do not lead to the victim's death.
Medical Malpractice and Opioid Overdoses
Although death is an unfortunately common result of opioid overdoses, this is not a requirement for medical malpractice to have played a role in the incident.
The U.S. Centers for Disease Control and Prevention (CDC) considers prescription drug abuse to be an epidemic. More than half of all drug overdose deaths in 2017 involved an opioid, and an average of 130 Americans die from opioid overdose every day.
For these reasons, the medical community has aresponsibility to educate patients about the dangers posed by opioid medications and to present reasonable alternatives to opioids to their patients whenever possible. When a doctor fails to act responsibly or makes an error involving opioids, and these mistakes result in an opioid overdose, it can constitute medical malpractice.
Determining Medical Malpractice in Opioid Overdose Cases
Some examples of situations in which medical malpractice may have contributed to an opioid overdose include:
The defendant prescribed opioids for longer than medically necessary.
The defendant prescribed opioids when your pain could have been managed as effectively by less addictive medications.
The defendant prescribed opioids despite signs of patient addiction.
These are not the only situations in which a medical malpractice suit is warranted after an opioid overdose. We can prove the defendant liable for medical malpractice after an opioid overdose by demonstrating the following:
The provider failed to meet an appropriate standard of care
The injuries occurred because of that negligence
The injuries resulted in damages
If you or a loved one experienced an opioid overdose, a medical malpractice lawyer may be able to help you protect your rights and pursue the compensation you deserve.
How to Prepare for Your Medical Malpractice Claim
We recommend that medical malpractice victims prepare for their claim by considering the following:
Who. This includes the names of the doctors, nurses, specialists, hospitals, and others involved in your diagnosis, prescription, and treatment.
What. This includes the damages you are seeking to recover.
Where. This includes the location of the alleged malpractice, such as a clinic or hospital.
When. This includes the dates associated with the alleged malpractice.
Why. This includes deciding whether you are pursuing compensation for damages, justice against the liable parties, or both.
How. This includes the specifics of how the opioid overdose occurred and the role the defendant(s) played in the incident.
You do not need to collect this information on your own. A medical malpractice lawyer can help you identify the evidence you need and gather it all together to build a strong case that supports your claim.
Damages You Can Recover in a Medical Malpractice Case
Although the precise damages available to you will depend on the details of your case, we are typically able to pursue compensation for the following injuries, losses, and other expenses:
Medical costs
Ongoing or future medical treatment
Lost wages
Diminished earning capacity
Pain and suffering
Punitive damages
A medical malpractice lawyer who understands what damages you can recover in a medical malpractice case can help you determine the compensation that might be appropriate within the context of yoursituation.
Statute of Limitations
The statute of limitations governing how long you have to file a medical malpractice claim varies by state. It is essential to begin the process as soon as possible to ensure you stay within your state's specific deadlines, and to make it easier to collect the evidence you will need to build a strong case that supports your claim.
A Medical Malpractice Lawyer Can Help
If you or a loved one suffered from an opioid overdose, you may be able to file a medical malpractice claim even if the overdose did not result in death.
---
Frequently Asked Questions
Can You Receive Compensation For A Birth Injury That Affects The Mother?
You can receive compensation for a birth injury that affects the mother. When a doctor's negligence, wrongful action, or lack of action during childbirth results in injuries to the child and/or mother, it is medical malpractice. As the injured party, and as the parent of the other injured party, you have the right to pursue
Read More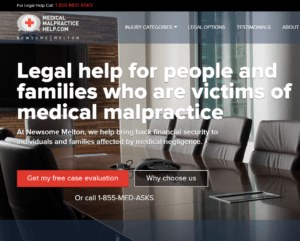 Can Patients Sue For Injuries From Surgical Errors?
Despite many protocols and requirements that hospitals are setting in order to avoid surgical mistakes, doctors and surgeons are still performing an alarming number of errors in the operating room. In the case of surgical negligence, the responsible party largely depends on who the surgeon is employed by and whether or not the error was
Read More