After taking a nasty fall in August 2011, Tonya Valentine could not walk.  She was then rushed to the emergency room where doctors found that she had badly fractured her ankle during the fall. The fracture was so severe that she required surgery. The procedure appeared to be successful, but her wound would not heal and the pain would not subside. More than a year later her condition had not improved, which eventually led to the amputation of her leg. But after a two-week malpractice trial against the surgeon, a Texas jury in Tarrant County ruled that the amputation was not necessary and had been based on misinformation. More than four years after the unwarranted surgery, Valentine was awarded $989,000 in damages.
"We are thrilled with the result," said Valentine's lawyer. "Our client is glad to get closure . . . jury verdicts like this will serve as a reminder that doctors who fail to confirm their diagnoses through readily-available tests will be held accountable for their mistakes."
Two weeks after fracturing her ankle in 2011, Valentine underwent open reduction internal fixation surgery in order to realign her bones with a metal screw. As time went by and her wound did not heal, the pain continued to increase. Her doctors referred her to the Trinity Pain Medicine Associates, located in Fort Worth, Texas. There she was diagnosed with Reflex Sympathetic Dystrophy, a chronic and rare pain disorder that can follow a severe injury. It was then that Valentine sought a second opinion from the defendant, Dr. John Stasikowski.
Fourteen months after her fall, Stasikowski diagnosed Valentine with Osteomyelitis, an extremely rare inflammation of the bone caused by infection. There are less than 1,000 U.S. cases of Osteomyelitis each year. In most instances the affected bone must be removed, which led Stasikowski to amputate Valentine's leg. But Stasikowski was so sure of his prognosis that he did not wait for the results of a test to back up his assumptions. When the results did come in, they showed that Valentine did not suffer from Osteomyelitis and instead had a staph infection that could have been treated without the amputation of her leg.
Stasikowski's lawyers argued that regardless of the misdiagnosis, the pain and infection in Valentine's leg would still have required amputation. But after deliberating for 24-hours the jury found in favor of the plaintiff for the wrongful amputation of her leg. Valentine was awarded $362,460 for future medical expense, $190,000 for disfigurement, $170,000 for lost earnings, $97,500 for physical impairment, $89,057 for past medical expenses, and $75,000 for pain and suffering.
—
---
Frequently Asked Questions
What Are Florida's Patient Compensation Funds?
If you, your loved one, or your child suffered injuries during a medical procedure in Florida, you might be eligible for compensation—even if no malpractice occurred. Florida's patient compensation funds provide money for specific injuries. If you are eligible for one of these funds, you could get paid without having to file for medical malpractice.
Read More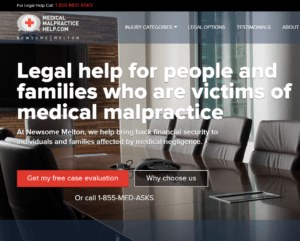 Should You Speak To A Malpractice Lawyer For Toxoplasmosis?
Toxoplasma gondii is a parasite that infects up to one third of the population worldwide. Ingestion of food or water contaminated with the parasite can lead to toxoplasmosis. The infection may be initially subclinical, but carries greater long-term risks. When left untreated, toxoplasmosis can cause eye disease, cervical lymphadenopathy, encephalitis, neurological disorders, psychological disorders, and
Read More